Speed, Flames and Fear in Phoenix
Phoenix, AZ Division 7 FMDRS Results (11/6/98-11/8/98)
As you can imagine, Lyle was spending lots of time on the computer working on a tuneup for 2300 feet of air in Phoenix vs. the 8300 feet of air in Denver. We left Albuquerque feeling that we had a workable tuneup that would get us down the track. We rolled in the gate Friday morning to a pit area that actually seemed kind of light on cars (maybe 13 or 14 alcohol funnies). We got a nice spot and then proceeded to watch trailer after trailer roll in until there was 22 funny cars in attendance. The game plan for the first session was to just get down the track and see if the tuneup was a good baseline. This plan led us to a conservative clutch setup and shortshifting 1-2. The following excerpt is from Compuserve's Racing Information Service (RIS):
__________________________________________________________________________
Left Lane: Lyle Greenberg
Right Lane: Norm Hill
Runs 6.139/232.47 Psn # 8
Runs 10.392/ 81.16 Psn #16
Nice baseline for Greenberg. Hill had the front end off the ground and then the rearend. Not much fun for him.
__________________________________________________________________________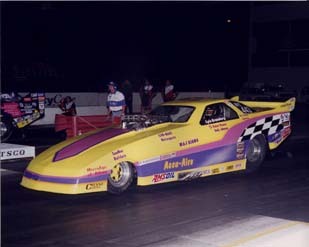 Cleared for launch - on its way to a 6.13 at 232 mph.
Photo by Gil Ribelas (c)1998
As you can imagine, we were pretty pumped. Knowing that we were probably light on the clutch, we were tickled to see the 232 mph speed. By the end of the session we were #9 (1st alternate). Everything in the clutch and top of the motor looked good, but we hammered some rod bearings. Saturday afternoon we went out with a more aggressive clutch setup and here's what RIS said about the run:
__________________________________________________________________________
Left Lane: Lyle Greenberg
Runs 6.035/234.45 Now # 7
Best prior run: 6.139/232.47 Was # 9
Right Lane: Sam Blue
Runs 6.042/240.51 Now # 5
Best prior run: 5.980/240.29 Was # 5
Greenberg improves just enough from last night to find a spot in the field. Blue appeared to be softer than his run on Friday evening.
__________________________________________________________________________
Wow, we were only .04 from that magic 5 second run and mighty close to 235! The biggest improvement probably came from running it out much farther in low gear. There was just a bit of tire shake. Even though we got more aggressive on the clutch, the 60' slowed from a 1.00 on run 1 to a 1.01 on run 2. Although we were #7 after that run, we slipped to #13 by the end of the session - tough field!!! Again everything on top and in the clutch looked great, but more hammered rod bearings were the sign of a motor that still wasn't too happy.
It was decided that we had to make it less of a slug in low gear, so we made some changes to hop up the launch. We richened up the fuel system a little to try and not abuse the bearings so bad. The changes seemed to work as we went out for session #3 and clicked off a .975 60' time (that is very good - .04 better than the last run just in the first 60'), but then the car started shaking pretty bad near the top of low gear. Lyle shifted to 2nd to try and drive through the shake and it just kept on shaking. He gave it a little pedal job at about 500' which probably ruined any chance of a 5 second elapsed time) - no matter what may have happened after that. I'll let Darryl Jackman, the RIS/Compuserve reporter, take it from there (hide the kids - it gets ugly!):
__________________________________________________________________________
Right Lane: Lyle Greenberg
Runs 6.176/196.67 Now #14
Best prior run: 6.035/234.45 Was #14
Lyle must be having fun this weekend. He is laying down career best numbers but still needs more. He takes out an engine big time here. Big flash and bang at about 1000 feet. Everybody holds their breath as he is just off the end of the track with a small fire. Everything appears to be ok...except the motor.
__________________________________________________________________________
Lyle says that he must be a real funny car driver now - he's been on fire! Looking at the video, it looks like the supercharger explosion occurred at about 900 feet. It went KABOOM ( Lyle said his ears were still ringing 2 hours later) almost like somebody lit off a stick of dynamite. There was a big fireball and then just sparks and little licks of flame. Lyle lit off the fire bottles, but couldn't tell whether they really went off. He went to them again just to make sure that the handle had been pulled. By now the car was about half way down the shutoff and Lyle finally got the chutes out. With the end of the track coming fast, he locked up the brakes and slid to a stop slightly sideways about 20' past the last turnoff (but still on pavement). As soon as the car stopped flames started shooting straight up from the blower. Next thing Lyle knew he was being drowned by about 6 fire hoses and everyone's yelling at him to get out of the car. When he got out, the paramedic wanted to check for any smoke inhalation, but before she could even attempt to do that Lyle took off his helmet and said "YEE HAW, that was a rush!!!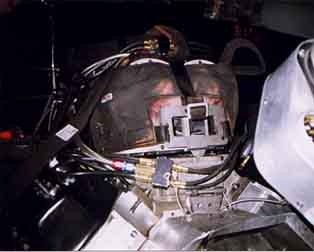 Here's what the motor looked like after the explosion.
The blower is completely off the manifold, the blower
bag is burned up and there is a gaping hole where a
tandem burst panel used to be. Photo by John Howard.
Post mortem: We are still not completely sure what really touched it off . It looks like the motor may have over-revved in the tire shake. We didn't get any computer data on the run to verify this, but the tattle tale on the tach was at about 10,000 rpm and Lyle is certain that he short-shifted to 2nd and saw the tach at 9,200 rpm on the shift to 3rd. Anyhow, it broke 2 intake pushrods. Because 2 intake valves were no longer opening, the same amount of air that had previously been feeding 45 pounds of boost from the supercharger to 8 cylinders suddenly only had 6 cylinders to fill. Those 6 cylinders immediately became much leaner than they were before. One of them quickly became lean enough to backfire up through the blower. The resulting explosion lifted the blower clear off the manifold - thank goodness for blower restraints keeping it on the car. The rear burst panel on the blower blew a dent in the firewall about 6" deep by 2 feet across. There was lots of shrapnel flying that made big scars on firewall. The windshield has two cracks running from the bottom to the top on both sides of the doghouse. When it exploded, #7 intake valve must have been open and the explosion traveled into that cylinder. It tried to lift the head off the block, breaking 3 of the 1/2" head studs. It pushed the head gasket right out (contributing to a lot of the initial fireball). The rod on #7 has a prominent "S" bend in it and was jammed against the crankshaft counterweight - unbelievable that it didn't break! It is so loose on the wrist pin you can literally move the rod side to side on the wrist pin about a half inch either direction. Absolutely mashed the daylights out of some of the bearings, spun 1 rod bearing and didn't hardly smash others - no apparent rhyme or reason! Bottom line: If the crank isn't cracked or bent it will at least need one journal rechromed, all of the connecting rods are junk, at least one piston is dead, 2 pairs of lifters (but we will replace them all), 2 pushrods (again, better to replace them all), 3 burst panels, 1 windshield, 2 computer sensors, some of the port nozzle lines (vulcanized by the fire), the blower bag is torched and the cylinder head is slightly bent and will need to be milled flat.
We try to look at the bright side of things. Based on the spun bearing and the other mashed bearings, we are fairly sure that,
if it had got to the finish line under power, it would have probably tossed the rods out. That could have been even more ugly and more expensive. Lyle has been telling everyone that, if he could do it again at no additional expense or work, he would because it was really a rush!
By the way, it turned out to be the fastest Divisional field in history in any Division. It took a 5.87 to get in the 8 car field!!! Here is the final qualifying sheet:
CHANDLER, AZ - SUMMIT FastNews - Final order after 3 rounds of qualifying in Federal-Mogul Funny Car at the Division-7 Final:
| | |
| --- | --- |
| Psn-Num-Driver, Home Town, Car Type | ET---Speed |
| 1 73 John Weaver, Hanford CA, 97 Firebird | 5.722 244.65 |
| 2 757 Larry Miner, Lodi CA, 97 Avenger | 5.745 251.02 |
| 3 747 Pete Swayne, Orange CA, 97 Firebird | 5.786 245.85 |
| 4 6170 Bucky Austin, Fife WA, 97 Firebird | 5.829 244.12 |
| 5 727 Ron August, Jr., Pleasanton CA, 94 Cutlass | 5.863 243.99 |
| 6 5 Johnny Gray, Carlsbad NM, 98 Firebird | 5.868 246.39 |
| 7 712 Rod Alexander, Montrose CA, Olds | 5.876 239.87 |
| 8 653 Steve Sommer, Nampa ID, 98 Firebird | 5.877 241.76 |
| --------- Not Qualified --------- | |
| 9 13 Fran Monaghan Jr, Willow Grove PA, 97 Avenger | 5.945 242.93 |
| 10 75 Doug Gordon, Paso Robles CA, 97 Firebird | 5.969 238.26 |
| 11 569 Sam Blue, Red Wing MN, 96 Achieva | 5.980 240.29 |
| 12 752 Mert Littlefield, Garden Grove CA, 96 Achieva | 5.988 236.26 |
| 13 766 Jason Rupert, Anaheim CA, 98 Camaro | 5.995 228.96 |
| 14 443 Lyle Greenberg, Albuquerque NM, 93 Daytona | 6.035 234.45 |
| 15 791 Mike Andreotti, Colusa CA, Daytona | 6.067 235.31 |
| 16 6012 Jett Field, Pocatello ID, 97 Avenger | 6.081 233.08 |
| 17 7704 Dale VanGundy, Anaheim CA, 97 Camaro | 6.242 221.63 |
| 18 734 Jim Bartoli, , '95 Olds | 6.457 211.39 |
| 19 717 Norm Hill, LaHabra CA, 95 Daytona | 6.468 172.59 |
| 20 708 Mike Adams, Phoenix AZ, 94 GrandAm | 6.891 195.85 |
| 21 704 Pete Rivera, Queen Creek AZ, 90 Corvette | 7.149 136.28 |
| 22 714 Dennis Taylor, Anaheim CA, 98 Avenger | 12.394 62.42 |
Click here to go on to the next newsletter article - "Come See Us On The Internet".
Click here to go back to the newsletter table of contents.