Lyle Greenberg Motorsports
Alcohol Funny Car and Alcohol Dragster Pictorial
(Archive Page 3)
Last Updated 12/17/99 - All pictures are compressed so you can be certain that the original photos were better than what you see here, but the load time is only 5 minutes @ 28.8k for 40 pics.
To keep the loads as quick as possible, older pictures have been moved to the archive pages.

Click here for ARCHIVES Page 1 - Updates from 11/1/98-12/5/98
Click here for ARCHIVES Page 2 - Updates from 12/12/98-1/17/99
This page is dedicated to pictures of cars that compete in the alcohol dragster and funny car classes. In general, the nitro cars get most of the ink and most of the pictures. This will be our attempt to even that up a little. We will show a mixture of historical and current cars and keep adding pictures to keep it fresh - check in at least once each week. Thanks to JWLast (70's Funny Car pictorial site) and Don Ewald (Fuel Dragsters - We Did It for Love) for inspiration and ideas.
New Pictures 12/17/99
---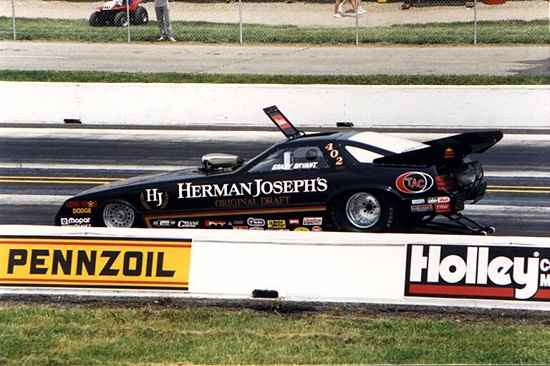 Grady Bryant is a Texas-based racer whose career dates back to the earliest days of funny cars. He campaigned this beautiful car in 1989. The car met an untimely end when it went off the end of the track at Pomona, through the sand, hit the catch fence and then did a forward roll. Photo by Michael Beach from the Curt Swartz Collection.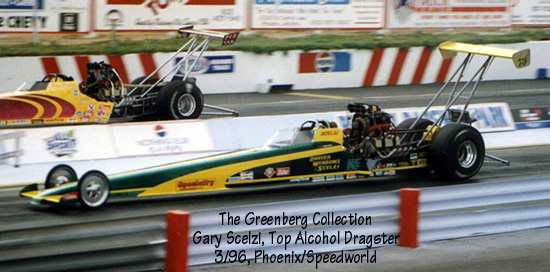 Before going on to be Top Fuel World Champion, Gary Scelzi drove the Darien, Meadows and Scelzi Top Alcohol Dragster. This picture was taken at the Div. 7 WDRS at Phoenix Speedworld in 1996.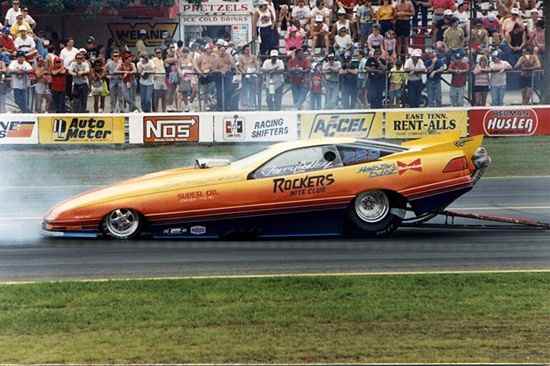 Jerry Gulley ran this nice looking piece out of Division 2. Photo by Michael Beach from the Curt Swartz Collection.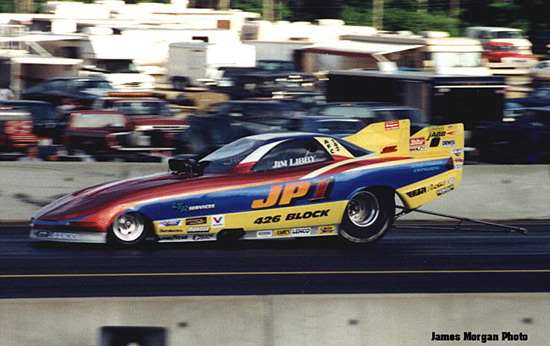 Jim Libby runs this Firebird out of Connecticut along with partner Frank Colanari. Photo by James Morgan.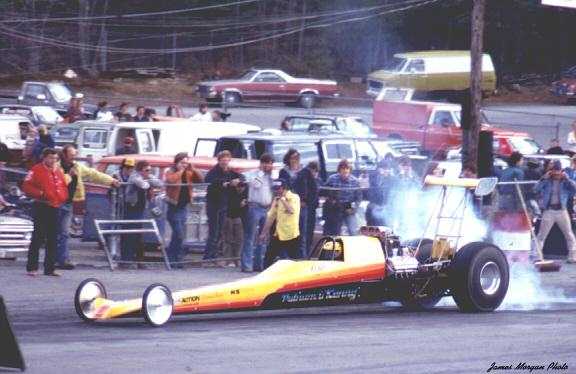 In 1981 Al Kenny drove the Putnam & Kenny AA/DA in East Coast action. Check out the unique aero treatment between the roll cage and the engine. Photo by James Morgan.


Long time East Coast runner Arnie Karp was always a crowd favorite in the Boston Strangler series of cars.
Photo by Arthur Cimilluca.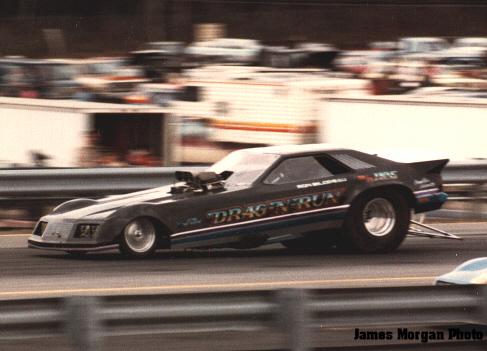 This is Ron Bilodeau of Connecticut with his KB-powered '82 Mustang. Shown here in 1985, this was a seldom seen car. Photo by James Morgan.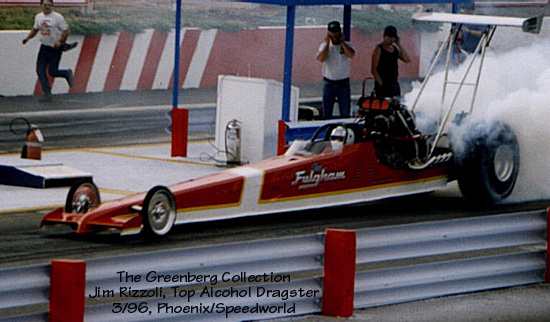 Jim Rizzoli was driving this Top Alcohol Dragster at the Div. 7 WDRS event at Phoenix Speedworld in 1996.
Pictures below this line were added 11/25/99
---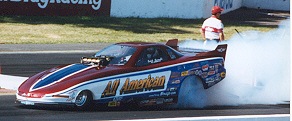 Butch Kernoodle has campaigned alky cars in the Northeast for many years. Photo by Arthur Cimilluca.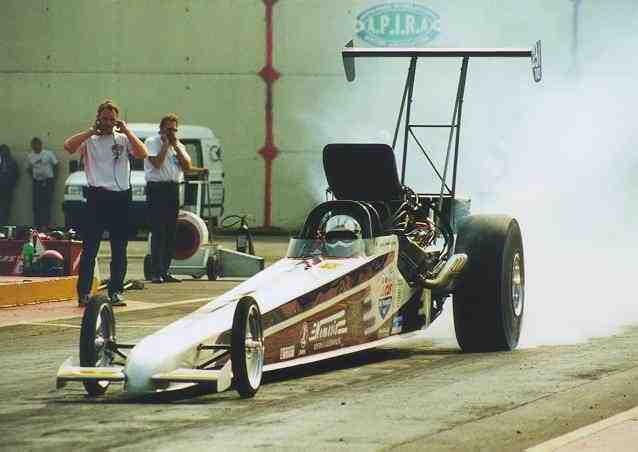 From the United Kingdom comes Dave Wilson. Check out the wild injector scoop! Photo by Tog.

In 1994, Drew Duliba ran this '87 Trans Am out of Pennsylvania. Photo by Arthur Cimilluca.
Before moving to T/F, Alan Hartley ran this injected nitro car called "Double Vision". Photo by Lyle Greenberg.

Mark Binckley ran this Tempo bodied car called "Total Chaos". Photo by Arthur Cimilluca.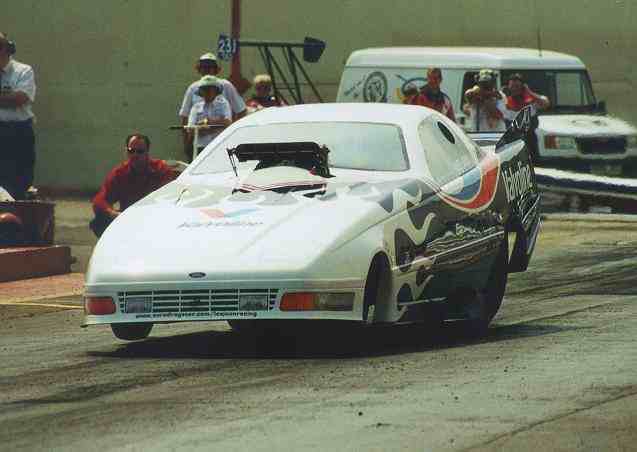 Holland's Lex Joon campaigns this Valvoline backed car in Europe. Photo by Tog.

Bruce Mullins campaigned this beautiful alky funny in Div. 1 and IHRA action in 1999. Photo by Arthur Cimilluca.
Pete Brozene is another one of the Div. 1 runners that Arthur Cimilluca captured with his camera.
Pictures below this line were added 03/04/99
---
I want to welcome a new contributor to this page, John Pattison. John is an avid photographer that resides here in my hometown of Albuquerque. For those of you who enjoyed the National Dragster Photo Contests over the years, you may recognize John as a former winner and consistent top 3 finisher.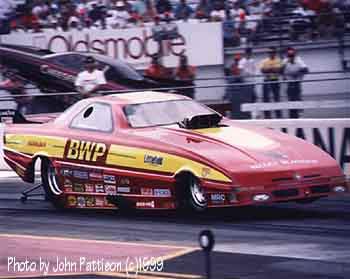 This photo is Billy Williams launching his alcohol funny car at the U.S. Nationals in Indy. John took this photo during his starting line photo shoot that he was awarded for winning the photo contest.
In 2002 Billy was gravely injured in a crash at an IHRA event. Please keep him in your thoughts and prayers. If you would like to help Billy and his family through this difficult time, a fund has been established:
The Billy Williams Fund, c/o Bank One, Attn: Noranne, 17426 Lorain Ave., Cleveland, OH 44111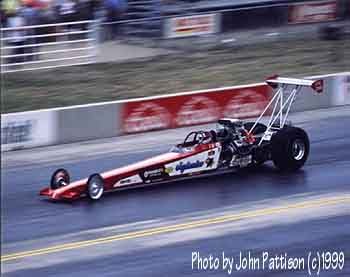 This is Tim Baxter and his Arias (Fontana) powered TAD making a pass at the Mile High Nationals in Denver.
Photo by John Pattison.


Jim Lape is a strong contender on the IHRA circuit with his east coast based operation. Photo by Arthur Cimilluca.

Although retired from active competition for a few years, Bill Barney was one of the toughest alky dragsters in the country for several years. The Castrol sponsorship allowed him to tour extensively. Photo by Arthur Cimilluca.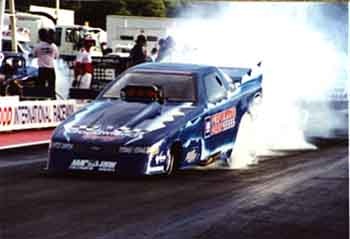 Out of Australia comes the GM Performance Parts backed TA/FC of Ian Brown. I try to keep track of how they are doing through email pal and crewmember, Darryl Lampitoc. Photographer unknown.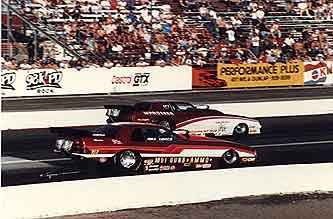 Back in the mid-late 1980's, Mike Greico was a strong competitor our of Northern California. His M&I Guns & Ammo backed TA/FC was a former Brad Anderson car (I think!) and performed well until being destroyed in a crash. Photo by JWLast.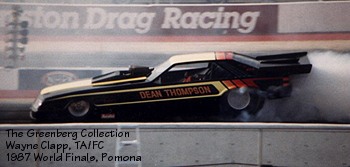 After driving an econo altered for Louisiana's Dean Thompson for several years, Wayne Clapp stepped up to a TA/FC. Although they ran fairly well, the team did not stay with it long. Photo by Lyle Greenberg.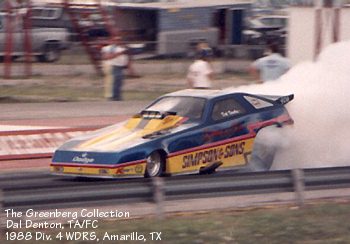 Dal Denton was a strong runner in Div. 4 in the Simpson and Sons Daytona. Photo by Lyle Greenberg.
Click here to go to the archives and see previous pictures
Email me at lyle@lylegreenberg.com if you have any alcohol funny car or alcohol dragster pics that you would like to see here. I've got enough to keep this thing going for a while, but I would love to include pictures that others have taken.
If you came directly to this pictorial, humor me and go to my Home Page or my Photo Gallery and see the Lyle Greenberg Motorsports Alcohol Funny Car.