Lyle Greenberg Motorsports
Alcohol Funny Car and Alcohol Dragster Pictorial
(Archive Page 1)
These are the original pictures that started this pictorial. They have been moved to this page to keep the main page loading as quickly as possible.
All pictures are compressed for quick loads - 24 pictures in 3 minutes @ 28.8
Pictures below this line were added 12/5/98
---

Brian Hough is out of Div. 6 and Bernie Harrington is based in S. Calif. but seems to race just about everywhere.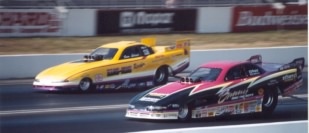 Bunny Burkett puts the moves on Sam Leland at the 1998 Div. 1 FMDRS at Englishtown. Photo by Arthur Cimilluca.

Dick Bell was a crowd favorite in the Northeast. Photo by James Morgan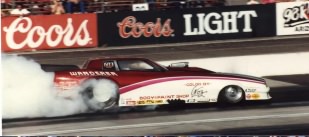 Mark Woznichak campaigned this Buick Somerset-bodied machine in Div. 7 in the mid-late '80's. As a paint and body man, his "Colors by Woz" put out some beautiful work. Photo by JWLast.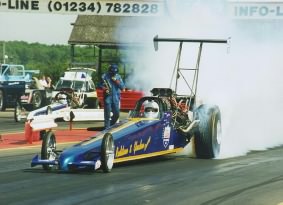 Fay Fischer runs this Top Alcohol Dragster in the United Kingdom. Photo by Andy Rogers (Tog).


Jeannie Booz is an up and coming Alcohol Dragster competitor in Div. 1. Photo by Arthur Cimilluca.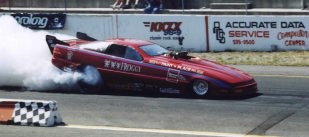 John Knox stays pretty close to home in the Great Northwest. This picture was taken at the AHRA World Finals in Spokane in 1998. Photo by JWLast.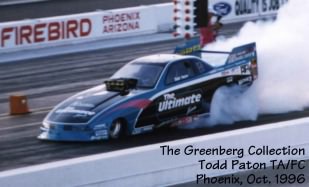 Todd and Barry Paton's Alcohol Funny Car at the Div. 7 FMDRS at Phoenix.
Pictures below this line were added 11/29/98
---


Dennis Bedrosian ran this beautiful car in the late-80's in Division 1. Arthur Cimilluca Photo.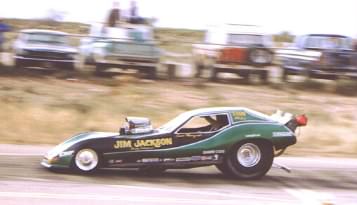 Simon Menzies reaches for the 'chutes in Jim Jackson's Corvette bodied machine. Not only did they do well in NHRA, but they also ran the car in some AHRA "nitro" shows (on alcohol) and did well. Photo by JWLast at Tucson, AZ AHRA Winternationals in Jan. 1978.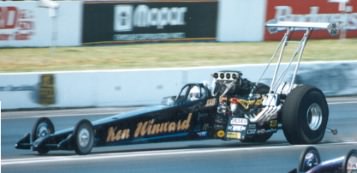 Ken Winward ran this unique Ford Shotgun powered alcohol dragster in Div. 1. Talk about flirting with the centerline! Photo by Arthur Cimilluca.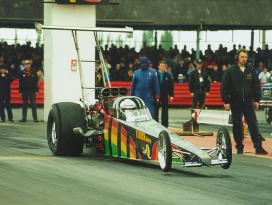 Now for some international flavor! Rob Turner runs this Top Alcohol Dragster in the United Kingdom. Photo by Andy Rogers (Tog).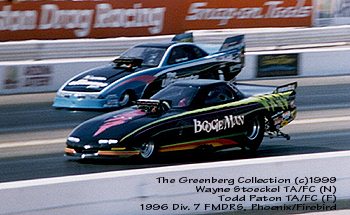 Wayne Stoeckel campaigns the "Boogie Man" Alcohol Funny out of California. He is always fast and exciting to watch, as he will use up all of his lane if necessary.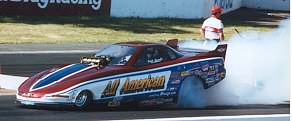 Butch Kernoodle has run a series of cars in East Coast match races. Arthur Cimilluca Photo.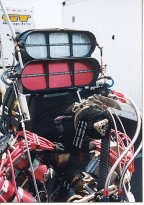 Are these alcohol guys innovative or what? Wayne Celko obviously felt that if one injector hat is good, then two would obviously be better. Picture by Arthur Cimilluca at 1998 Mopar Nationals at Englishtown.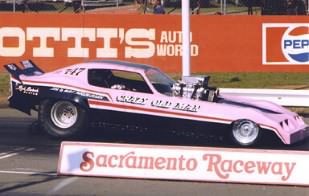 This Firebird bodied machine was campaigned in Northern California by Jim & May Rasmussen in the mid-80's. JWLast took this photo at Sacramento.
---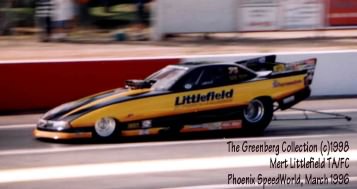 Mert Littlefield has been running Funny Cars for almost as long as anyone. This is about 100' off the starting line on a good pass at Phoenix Speedworld.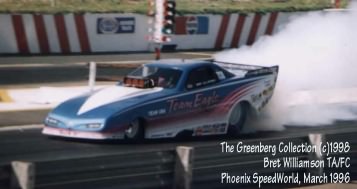 Bret Williamson turns out some of the finest pieces around from his Eagle Fabrication shop. Here he is just completing a burnout.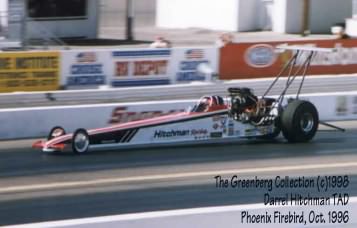 Darrel Hitchman at about half track at Phoenix (Firebird).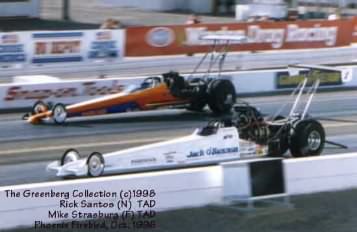 Rick Santos drives Jack O'Bannon's TAD to another incredible pass against Utah's Mike Strasburg.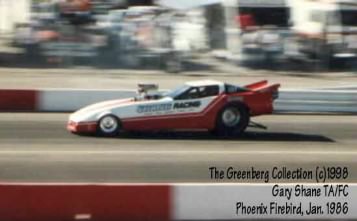 Gary Shane ran this Corvette bodied TA/FC on the West Coast in 1986. This car stood out for 2 things, one of the highest blower/injectors ever and an extremely distinctive exhaust note with a 180 degree crankshaft.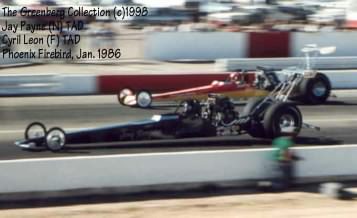 This is Jay Payne's 1986 ride. Here he is qualifying next to the seldom seen Cyril Leon.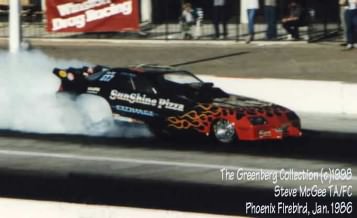 Steve McGee ran this TA/FC out of Oregon. He had what seemed like a big sponsorship package from the "Sunshine Pizza Exchange". McGee now runs a supercharged gasser at the Good Guys Nostalgia races.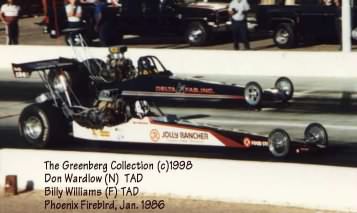 This is Don Wardlow out of Colorado putting a huge holeshot on the Delta Fab car. There seems to be some question who was in the Delta Fab car at this race. Best info I can come up with says it is Larry Klinger - anyone know for sure? Wardlow ran this car for only a year or two and then dropped out of sight.
Click here to go to Archive Page 2
Email me at lyle@lylegreenberg.com if you have any alcohol funny car or alcohol dragster pics that you would like to see here. I've got enough to keep this thing going for a while, but I would love to include pictures that others have taken.
If you came directly to this pictorial, humor me and go to my Home Page or my Photo Gallery and see the Lyle Greenberg Motorsports Alcohol Funny Car.