1999 NHRA Arizona Nationals, Phoenix, AZ (02/25/99 - 02/28/99)
I'll get right to the point. We ran good. No, actually we ran GREAT! There were 23 cars there and we qualified in the top half at number 8 with a 5.84 at 242 MPH. But, we lost first round when the air shifter failed, the engine overrevved and broke a couple of connecting rods.
OK, now that you know the end of the story, let me walk you through how we got there. If you have been following our progress, you know that we have a totally new fuel system from Les Davenport. What you may not know is that we hired Les to be a tuning consultant at this race to help ensure that we didn't make any tuning mistakes that might burn up our only bullet.
One of the nicer things that NHRA has done was to set our qualifying sessions for Friday and Saturday. Many other national events have a Thursday session. This allowed us to be able to cruise over to Phoenix without a lot of pressure to get there on Wednesday. The trip to Phoenix was uneventful, although you NASCAR fans might be amused to know I ended up in a great conversation with Darrell Waltrip at the Cracker Barrel in Flagstaff. Turns out that he was filming an advertisement at Metor Crater outside Flagstaff (can't wait to see the finished product).
This race marks the debut of the new name for our car - "RELAPSE!". Our "Name That Car" contest was sponsored by Accu-Aire Service which is owned by partner, crewmember and confidant Andy Johnson. The contest was a great success and generated many suggestions. See the related story on the "Name That Car" page. This photo shows our "new" look.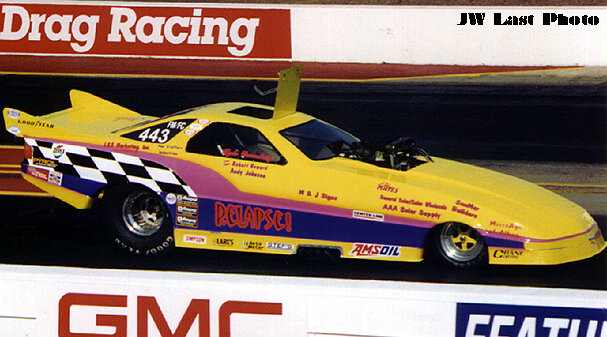 Photo by JWLast
We rolled into the track in the late morning on Thursday and found that NHRA had set aside quite a few pit spots for the alcohol cars to use. After getting the car unloaded and the pit area organized, we went and took care of the funny car body inspection. At the first national event that you attend each year, NHRA makes you get the body certified as being legal. This entails going through the "chamber of horrors" that measures it in at least 50 different spots. This was kind of an interesting process, not because of our body, but because we were in line behind 2 Rick Jones-built Pro Stockers. At the first race in Pomona, all of the Rick Jones built cars (including Warren Johnson) flunked the body inspection and had to have some pretty crude changes made. Needless to say, the inspection done on these cars was unbelievably thorough.
Late in the day on Thursday, Les Davenport got to the track after a full day's flight from Calgary, Canada. We warmed the car up and pronounced it ready to go for the first qualifying session on Friday. We were told by NHRA that we would be the second pair of cars in the qualifying session. This is actually an advantage, as it gives us that much more time to prepare for the second session later in the day. Everything seemed to be going well, so we expected a good run. The car launched hard and made a good move for 60 or 100 feet. The plan was to have Lyle do a timed shift at approximately 1.2 seconds into the run (about 125 feet out). He punched the button for 2nd gear, but it jammed and the car only partially slid into 2nd. This caused it to shake the tires pretty hard. When Lyle lifted and could see again, he found it sitting on the centerline and proceeded to hit the 330' reflector foam block. Of course, he shut off and coasted through. The 60' time of 0.986 indicated that the car was launching hard and a good run would be very possible.
An inspection of the shifter button found that the O-ring had folded out of its groove and cause the button to jam. Crew chief Robert Howard and the rest of the crew proceeded to do normal maintenence to prepare for the 2nd qualifying session. The altercation with the foam block did some minor damage to the right front corner of the body, so ace paint and body men Blake and Andy Johnson sprang into action patching it with aluminum and the infamous 200 mph tape. When they finished, you literally would not have even known there was a problem if you didn't look very carefully.
The 2nd qualifying run again showed the car capable of going fast as it launched with a 60' time of 0.954 seconds. Unfortunately, the car began to move to the right at about 100' and Lyle did a quick "pedal" job by lifting out of the throttle just long enough to get it pointed back the right direction. He continued on with the run, planning to shift from 2nd to 3rd at 9,500 rpm. However, at about 8,900 rpm the car nosed over. Reflexively, Lyle shifted to 3rd gear, but the car still didn't feel like it was making good power so he shut off. Even with all of that going on, it coasted through at a 6.31 second ET at 212 mph. Back at the trailer a review of the computer data showed that 6 cylinders went dead virtually at the same time at 8,900 rpm. Even after the shift, the exhaust gas temperatures (EGT) on those cylinders really didn't pick up very well. The initial thought was that the rev-limiter had malfunctioned. This device is designed to keep the engine from exceeding 9,500 rpm. Whenever that rpm level is reached, it creates a short in the ignition to stop the magneto from firing. We theorized that it had engaged for some reason even though the engine had not reached 9,500 rpm. An inspection of the rev-limiter showed tell-tale "arc" marks indicating that it had, in fact, engaged itself. Les Davenport indicated that this was not the only problem. He felt that the EGT's would have picked right back up after the shift to 3rd if the rev-limiter was the only problem. Based on that we put a new coil on the car and had Mallory test the magneto. The next order of business was to determine why the car seemed to be going to the right so much. Les inspected the front end and had us change the toe-in and camber on the front tires and adjust the drag link so that the steering wheel was centered properly. With these changes, we felt extremely confidant that the car would lay down a good pass in the 3rd qualifying session on Saturday morning.
The qualifying session on Saturday was scheduled for 9:30 AM which didn't leave much time to get to the track, unload the car, get it prepared and warmed up. We got to the track, got everything done and then had a fairly major glitch pop up. At about 9 AM, after warming the car and re-setting the valves, a spark plug stripped the threads right out of the hole. We frantically found someone with a spark plug repair kit (thanks Tate and Bobby Branch!) and proceeded to get it fixed fairly quickly. We towed up to the lanes and just as they started to run the alcohol funny cars, Robert noticed that the air bottle for the shifter was dangerously low. While Andy, Blake and new crewmember Jeremy Sisneros got Lyle belted in the car, Robert sprinted back to the trailer, got the spare air bottle, sprinted back to the staging lanes and got it changed with seconds to spare. Doesn't sound like things are going to smoothly at this point, huh!
This is the photo that appeared on the Summit Drag Race Central web site describing the situation and results.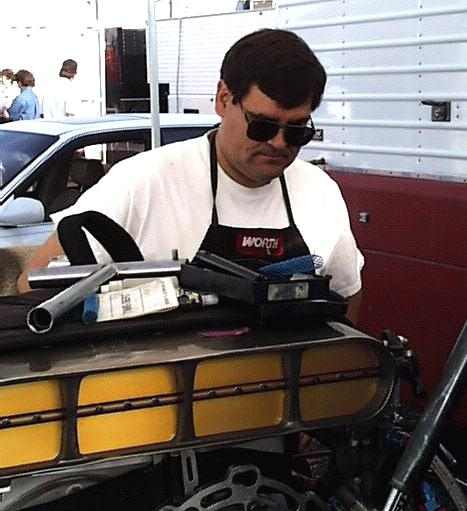 Photo copyright 1999 Auto Imagery, Inc.
If Federal Mogul Funny Car racer Lyle Greenberg looks worried, he has good reason. It's less than 30 minutes until the final qualifying session, he's not qualified and his motor has a stripped spark plug hole. The team fixed the problem, made the run and knocked almost 2 tenths off of their previous all time best with a #8 qualifying 5.84.
---

Copyright ©1998 by AUTOSALES, INC., dba Summit Racing Equipment

The car fired right up for the run and Lyle did a good burnout. The car made another great launch and went fairly straight. There was virtually no tire shake, it shifted fine and made tracks for the other end. Lyle said that he started having a conversation with himself even before it stopped. "Geez, that felt good. Think that was good enough to get us in the show? Yep, good pass - I'll bet it was in the 5's." The crew played it real cool, driving up and just giving a few thumbs up. Blake then said to Lyle, how does a 5.84 at 242 mph sound. At that point everyone went nuts with hooting and hollering. The actual stats on the run were:
.482 reaction time
0.955 60 foot ET
2.539 330 foot ET
3.819 660 foot ET at 192.93 mph
4.915 1000 foot ET
5.846 quarter mile ET
242.67 MPH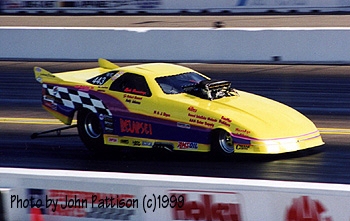 At half track, on the way to a 5.84 second ET at 242 MPH.
Photo by John Pattison (c)1999
What a pass! We went from being not in the show, to being in the TOP HALF of the field at #8. There were some big name heavy hitters below us on the qualifying list. It was great fun to have lots of both racers and fans come by and either tell us what a great job we had done or ask "who the heck are you guys".
---
Here is the final qualifying results:
CHANDLER, Ariz. - SUMMIT FastNews - Final order after 3 rounds of qualifying in Federal-Mogul Funny Car at the 15th annual NHRA Checker Schuck's Kragen Nationals:
  
 Psn   Driver                Vehicle          ET    Speed
  
    1  Frank Manzo           '98 Avenger     5.669  254.52 
    2  Bucky Austin          '97 Firebird    5.670  250.88 
    3  Pete Swayne           '98 Firebird    5.738  249.76 
    4  Pat Austin            '99 Firebird    5.762  249.30 
    5  Larry Miner           '98 Avenger     5.778  241.45 
    6  Steve Gasparrelli     '99 Firebird    5.786  245.67 
    7  Russ Parker           '97 Firebird    5.829  243.15 
    8  Lyle Greenberg        '93 Daytona     5.846  242.67 
    9  Bret Williamson       '92 Trans Am    5.847  243.19 
   10  Tate Branch           '98 Avenger     5.858  244.74 
   11  John Weaver           '99 Firebird    5.880  240.98 
   12  Mert Littlefield      '99 Camaro      5.929  239.40 
   13  Rod Alexander         '97 Cutlass     5.957  244.43 
   14  Dennis Taylor         '99 Avenger     5.973  233.08 
   15  Bob Gallio            '95 Thunderbir  5.981  237.63 
   16  Jett Field            '97 Avenger     6.056  237.13 
          --------- Not Qualified ---------
   17  Dale VanGundy         '97 Camaro      6.062  222.69 
   18  Steve Sommer          '98 Firebird    6.063  245.81 
   19  Jay Payne             '99 Camaro      6.070  239.74 
   20  Jason Rupert          '98 Camaro      6.171  233.72 
   21  Pete Rivera           '90 Corvette    6.529  213.50 
   22  John Hyland           '98 Mustang     6.594  186.74 
   23  Michael Adams         '94 Grand Am   12.085   67.93 
---
Unfortunately, we couldn't spend too much time feeling good since we had to run the first round of eliminations that afternoon. Our #8 qualifying position matched us with Bret Williamson who had qualified #9 at a 5.847, just .001 slower than our effort. We would have lane choice, but could hardly be called a favorite. We did our normal between runs maintenence, then warmed the car up. In a repeat of our problem the previous day, the 2nd gear shift button jammed and the car would not shift. We shut it off and found that it had again pushed the O-ring out of its groove. At this point we assumed that there was something amiss with the regulator on the air bottle. Although the bottle has somewhere near 1,000 psi of pressure, the transmission needs about 300 psi to shift correctly. A regulator on the system accomplishes this. We found another regulator and quickly installed it. We warmed the car up again and it seemed to shift fine. NHRA had already notified us that our match with Williamson would be the first pair out.
Everything went according to plan on the startup routine and burnout. Lyle left the line with a decent reaction time of .524, while Williamson was way late at a .627 RT. At 60 feet, the Greenberg car had stretched the lead by another .02 and had a commanding lead. As discussed earlier, the shift was planned for approximately 1.2 seconds into the run. When the shift comes that quickly, the car is still slipping the clutch enough that there is no change in rpm when it shifts and it is imperceptable to the driver. Lyle plugged it into 2nd gear and headed for the finish line. Unfortunately, unknown to him, the air shifter had again malfunctioned and the shift had not occured. Almost immediately the car went into violent tire shake (which seems to almost always occur when the car gets above 8,500 rpm in low gear). With the engine well over 9,000 rpm, the tire shake actually threw the rear tires over 6 inches off the ground allowing the engine rpm to "go to the moon". You may recall that the team had unhooked the rev-limiter due to its earlier problems so there was nothing to stop it from gaining rpm. The computer shows that the engine went to 11,500 rpm before the #1 and #2 connecting rods disintegrated and made untidy exits out the side of the block and through the bottom of the oil pan. Lyle knew immediately what had happened when he glanced down at the small fire windows that are built into the firewall and saw that they were coated with oil. Although the carbon fiber "diaper" would usually have kept any significant amounts of oil from being deposited on the track, a fairly large piece of connecting rod had not only gone through the oil pan, but also blew its way right through the carbon fiber. This caused us to create our first oil-down - my apologies to the Safety Safari.
---
Here is how the race was described on the Summit Drag Race Central and NHRA Online web sites:
Qua-Driver(Opp'nt)-RT-----ET---Speed-Rd-Qua-Driver(Opp'nt)-RT-----ET---Speed
   9 Bret Williamson     5.847 243.19  Q    8 Lyle Greenberg      5.846 242.67
 *****WINNER***** 0.627  6.340 167.07  E1                  0.524  7.668 120.95
02:02 PM We start eliminations with Sunny Skies, and the warmest temps we've seen this weekend. Greenberg had a full tenth of a second in the bank at the start but went into severe tire shake then broke something in the driveline. The motor hit the rev limiter at least once, and Lyle could only watch Bret Williamson drive by. Bret will face either Frank Manzo or Jett Field in round two tomorrow.

We've got "fluids" in the right lane, down for a cleanup.
---
The autopsy shows that there are two rather large "windows" in the block where rods exited, as well as two areas where the block is cracked as pieces tried to go out the side and didn't have the momentum to make it. The crankshaft has several bad "dings" in the #1/2 rod journal and the #3/4 and #5/6 rod journals are blackened from lack of oil (the oil pressure obviouly went away completely when the #1 and 2 rods came off their journal. The #2 main bearing was spun and damaged that crank journal as well. The cylinder heads look intact, with only minor contact from the pistons that were no longer attached to rods. There are a number of bent valves, but the rest of the valvetrain was intact. The strangest casualty is the clutch. It appears that when the engine became severely out of balance (they do that when all the rods aren't attached!) the clutch began to be slung around in an eccentric manner that caused it to actually have its edges ground down as it scraped against the bellhousing. The block is off to KB for repair and, hopefully, Lance Flanakin will be able to work his magic on the crank and salvage it.
For a team that just did $7,500 (or more) damage, we were ecstatic. The feeling of accomplishment that goes with putting the car in the top half of a tough national event field is amazing. It is not an exaggeration to say that our operation has no more than 10 or 20% as much invested as some of the competition - we are doing it on a shoestring. The shoestring just broke, but we will be back.
We also cannot say enough about Les Davenport. While he has generally been acknowledged as one of the top tuners in the alcohol categories for years, he almost always works for "bucks-up" teams that have the best equipment. Because of our lack of spare parts, we were making him work with one hand tied behind his back. It is an incredible testimony to his abilities that he could take a car with a 12 year old chassis, 13 year old cylinder heads!!! and put it in the top half of the field. As far as we are concerned Les walks on water.
We have made a commitment to run the "Night of Fire" match race at Bandimere Speedway on May 15th, so we will be back together by then regardless of the obstacles. Our circle of sponsors and friends have already offered help, both financial and moral support. We look forward to making several more races this year and continue the strong performance we have shown ourselves capable of.
SPONSORSHIPS ANYONE??? Although it is tacky to beg, we need help and its not as expensive as you think and its lots of fun to tell people that you are an important part of running the car. Click here to go to our sponsorship page for more details.

Click here to return to the newsletter table of contents.