Compressed Images - Approx. load time 69 sec. @ 28.8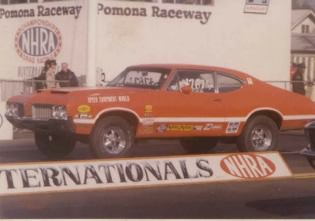 Photo by Les Welch
This really _was_ my father's Oldsmobile. We ran D/SA in this 1970 Olds 442 W-30 from 1971-1976. Lyle drove the car in 1975 and 1976 at the tender age of 16. Set a few national records, went to the semis at a NHRA Division 4 race and went to the semis at an IHRA National Event.
---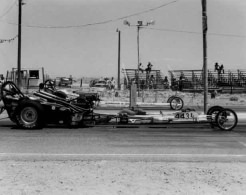 The Oldsmobile was sold in mid-1976 and this B/ED was purchased. Lyle was licensed in this car at the age of 16 and achieved some noteriety at the time as the youngest dragster driver in the Southwest. This car was extremely competitive in regional and local Comp Eliminator racing. Won the 1976 Southwest Championships in El Paso, Runner-up at the High Altitude Nationals in Pueblo and several wins at Albuquerque and Roswell, NM.
---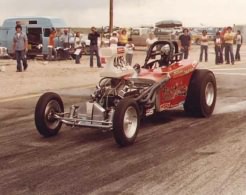 Lyle drove this car in 1978 and 1979 as a C/EA Comp Eliminator car. The car was owned by Andy Johnson, currently a sponsor/crew member on the Lyle Greenberg Motorsports alcohol funny car. In 1979 this was the acknowledged "killer" car in New Mexico Comp Eliminator action. With a trick Reher/Morrison powerplant, the team won the season championship at Albuquerque Dragway (where they ran a monthly Comp/Modified Combo) by winning 4 races and going to the final round at 7 out of 10 events.
---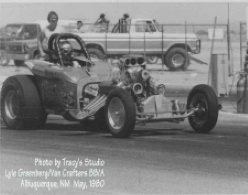 Photo by Tracy's Studio (c)1998
In 1980, Andy Johnson and Jim Statkus teamed up to put one of Statkus's blown gas big block Chevy tractor puller motors into the altered. The unique combination utilized the same powerglide transmission and fully suspended chassis that the team had campaigned in 1978 & 1979. They ran the car as a BB/A in Comp Eliminator at several Divisional races. While the car never went particularly fast, it was a typical short wheelbase (110") blown altered - guardrail to centerline and back again!
---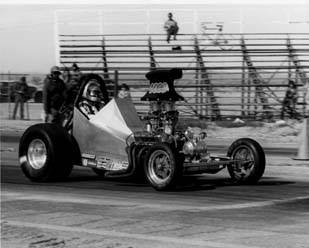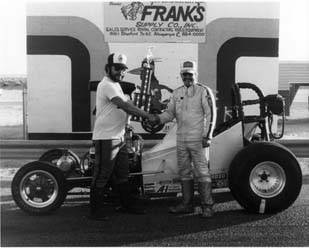 Photos by Tracy's Studio (c) 1981
During the next several year's Lyle drove quite a few different cars on one-off appearances whenever he either hustled a ride or was approached out-of-the-blue. Probably the strangest vehicle he ever drove was this car back in 1981. In retrospect, today it would probably be called a very short "funster" due to the bodywork. This was a 90 some odd inch altered that originally was built in the early 1960's with a "T" Bucket body. It was owned by Paul Baron. Paul decided to pitch the body in order to save weight and put the briefest of aluminum bodies on it. The engine was a 454 cubic inch Rat motor with a tunnel ram that powered the car to mid-9 second ETs. In his only appearance in the car (in this configuration), Lyle drove the car to the event victory over 50 cars in Bracket 1! It proved to be the most successful outing the car ever had.
---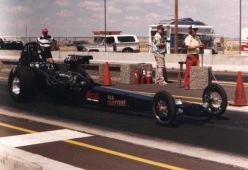 Photo By Tracy's Studio (c) 1990
After a 5 year stretch where he drove 3 or 4 cars on a sporadic basis, Lyle and Andy Johnson returned in 1985 with a front engined Super Comp dragster. As anyone who knows Lyle can attest, he is something of a nostalgia freak and thought it would be great fun to go compete in the Super Comp "wars" with a supposedly outdated combination. The car quickly went from a bare bones simple combination to a fully electronic, state-of- the-art Super Comp contender. In 1986 they finished 5th in the West Central Region (Div. 5) points chase and 2nd in the Div. 5 TRW All-Star points. They won both days of the Southwest Super Comp Championships in El Paso and won the Southwest Drag Racing Assoc. season points championship.
In 1989, Lyle and Andy made the decision to stop chasing NHRA points and concentrate on local races. This decision was rewarded with 5 event wins, 3 runner-ups and a season where they won 2 big money bracket races (including a CBRA - Championship Bracket Racing Assoc. event). By 1990, the team was getting burned out on the Super Comp and bracket races that seemed more and more like hi-tech slot car events. They finished the year with several wins and 2nd place points finishes in two seperate series. The car was sold in the early part of 1991.
---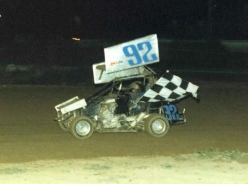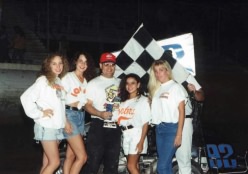 When Lyle got out of the Super Comp car at the end of 1990, he told anyone who would listen that he would only go drag racing again with a blown alcohol category car. Financially, that proved to be a tough deal to make work. So, in 1993 he took a try at circle track racing with a "mini" sprint car. These cars are small versions of outlaw sprint cars that utilize motorcycle engines for power. He bought a great car out of Oklahoma and proceeded to win the main event at the first three events they ran. By the time this car was sold in early 1995, Lyle had won 6 out of the 12 main events he drove the car in.
---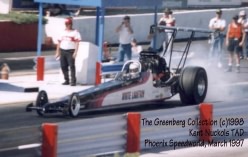 In 1995 & 1996, Lyle had the opportunity to work on the crew of Kent Nuckols' Top Alcohol Dragster. Anyone who has ever worked on a blown alcohol or blown nitro car knows that it is a ridiculous amount of work. Any sane person would have done that for a while and quietly shelved any idea of actually getting involved on a more permanent basis. Those that know Lyle well can believe that sanity had nothing to do with it and, by mid-1996, he was actively looking for a car to buy. The current Lyle Greenberg Motorsports Federal Mogul Top Alcohol Funny Car was purchased in mid-1997.
---