Lyle Greenberg Motorsports
Alcohol Funny Car and Alcohol Dragster Pictorial
Last Updated 9/15/02 - All pictures are compressed so you can be certain that the original photos were better than what you see here, but the load time is only 4 minutes @ 28.8k for 40 pics.
To keep the loads as quick as possible, older pictures have been moved to the archive pages.

Click here for ARCHIVES Page 1 - Updates from 11/1/98-12/5/98
Click here for ARCHIVES Page 2 - Updates from 12/12/98-1/17/99
Click here for ARCHIVES Page 3 - Updates from 3/4/99-12/17/99
This page is dedicated to pictures of cars that compete in the alcohol dragster and funny car classes. In general, the nitro cars get most of the ink and most of the pictures. This will be our attempt to even that up a little. We will show a mixture of historical and current cars and keep adding pictures to keep it fresh - check in at least once each week. Thanks to JWLast (70's Funny Car pictorial site) and Don Ewald (Fuel Dragsters - We Did It for Love) for inspiration and ideas.
New Pictures 9/15/02
---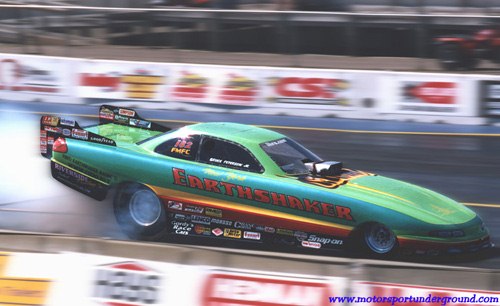 Bruce Peterson, Jr. is a former Pro Wrestler campaigning this TA/FC out of New York. Photo by James Morgan - http://www.motorsportunderfround.com
Among the most unique cars running in the 2001 season is Mark Foster and his California based Top Alcohol Dragster. Photo by Robert Briggs.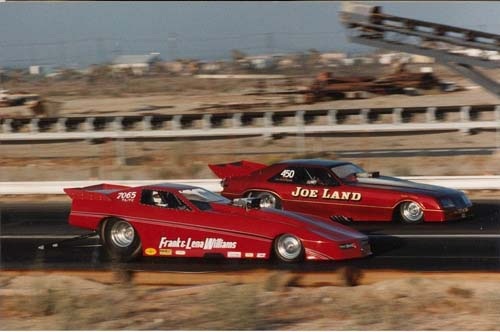 West Coast runners Lena Williams and Jim DePasse are in a tight battle at Palmdale, CA in the mid-'80s. Photo by Kevin Knauer.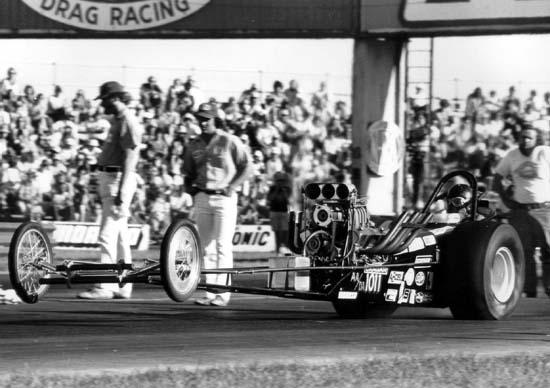 In the mid 1970's, long after Garlits rear-engine ("front-driver", with all respects to Mr. Fuller!) design scrapped front motor diggers, Dale Hall, from Connecticut, stood fast with his Pro Comp, later Top Alky Dragster, small-block Chevy powered car! Mid sixes and 210+ from a blown, mega-overdriven, small-block Chevy on alcohol with a planetary trans. Also, a many-time winner at NHRA major events during a 3-4 year period, and plenty of No. 1 qualifier spots. Very quick, very consistent and a hell of a bunch of fun to watch and listen to that little Chevy wind.
Photo and commentary by Jim Hill.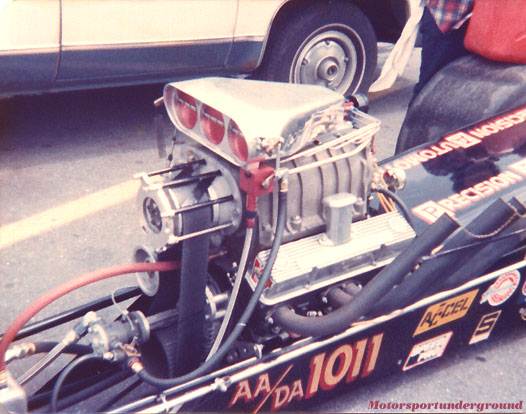 A closeup shot of the little mouse motor that powered Dale Hall's "Giant Killer". Photo by James Morgan - http://www.motorsportunderground.com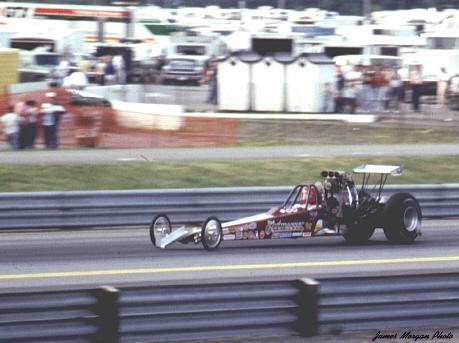 By the 1980's, Dale Hall had succumbed to the need to go to a rear engined configuration. He did keep the small block Chevy in this car he dubbed "Nutmegger". Photo by James Morgan - http://www.motorsportunderground.com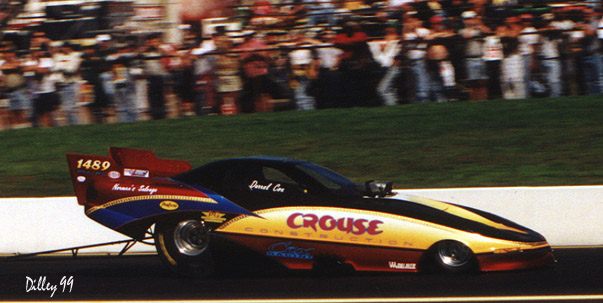 Darrell Cox ran this Firebird on the East Coast. Photo by Dilley.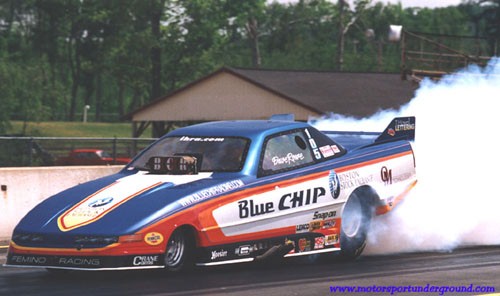 The Blue Chip TA/FC was a player in the IHRA circuit in 2000-2002. It is owned by Paul Femino, tuned by Tom Howell and driven by Dave Rowe. Photo by James Morgan - http://www.motorsportunderground.com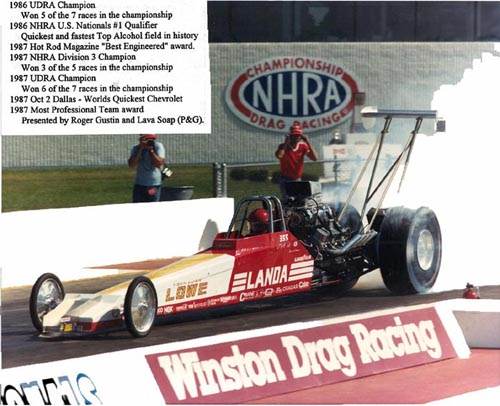 Ken Lowe owned and drove this Landa Pressure Washers backed TAD that qualified #1 at Indy in 1986. Photo courtesy of Ken Lowe.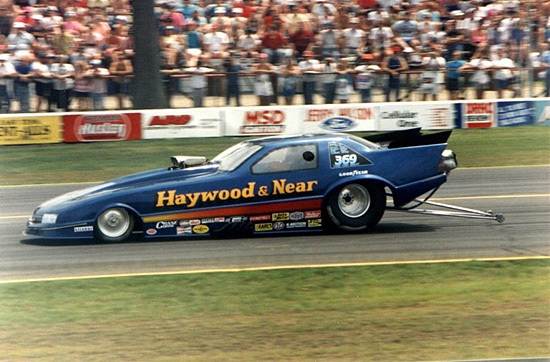 Don Haywood drove the Haywood & Near TA/FC in Midwest competition in the '80s. Photo by Michael Beach from the Curt Swartz collection.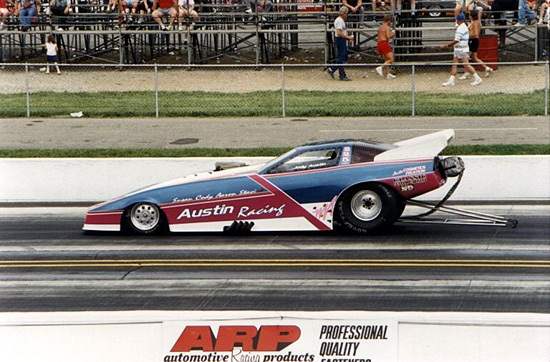 Jody Austin was also a consistent runner in the Midwest. Photo by Michael Beach from the Curt Swartz Collection.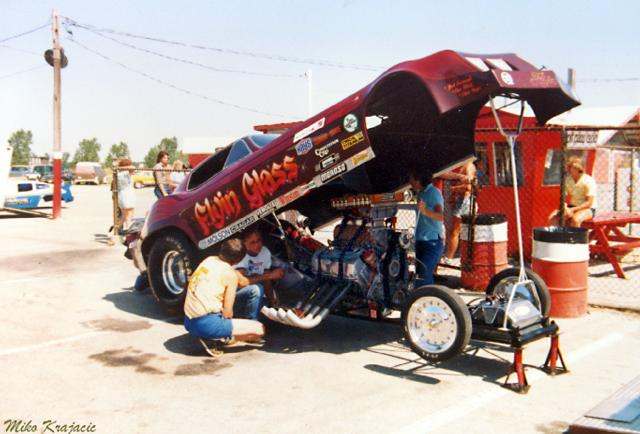 Canada's Herb Rogers has run several cars with the "Flying Glass" name. Photo by Miko Krajacie from the Rob Potter collection.
Click here to go to the archives and see previous pictures
Email me at lyle@lylegreenberg.com if you have any alcohol funny car or alcohol dragster pics that you would like to see here. I've got enough to keep this thing going for a while, but I would love to include pictures that others have taken.
If you came directly to this pictorial, humor me and go to my Home Page or my Photo Gallery and see the Lyle Greenberg Motorsports Alcohol Funny Car.
FRAMED PAGES CODE TAGS (only use these tags if your site uses frames):