Close 1st Round Loss in Denver
As most will remember, we blackened the crankshaft and broke a main cap at the Mile High Nationals in Denver. Before we could run the car again, those parts had to be repaired. We got the block back from Keith Black Racing Engines by the 1st of Sept., but we didn't get the crank until Wed. (Sept. 9). The Division 5 FMDRS was scheduled for Sept. 11-13, so we had our work cut out for us if we were going to make the race. We stayed up until midnight Wed. putting the motor together and putting the clutch /transmission in. We were able to get the car loaded and the trailer packed Thursday night. Friday morning we left for Denver at about 7 am. When we rolled into the track at about 3 :15 pm, we figured that we had plenty of time to make the 6:00 qualifying session - WRONG! Lots of little problems popped up. We had to change the throttle cable as it had somehow got all kinked up, had to change the clutch stop, etc., etc. The bottom line is that we didn't make the session. When the 3 :00 pm Saturday session rolled around it was raining. The rain finally stopped about 4 :30, the track was dried and we got to run at 6:30 pm. Lyle went overboard richening the #1 cylinder that had detonated so bad at the Mile Highs. It was a dead player all the way - under 100 degrees past half track (it ought to be at least at 800 degrees!). It never got over 250 degrees, even in the lights. In spite of being on 7 cylinders, it went 6.50 at 214 mph. At 6 :45 the track told us to be ready for the last session at 7:45. Its pretty tough to maintenance the car that fast and we were fairly sure we wouldn't be ready. Lyle was already looking at the unqualified cars and assessing their chances of bumping us. At 7 :15 it started raining again and the track decided to cancel the remainder of qualifying. That put us in the show in the #7 qualifying position. From a budget standpoint, being able to qualify in 1 shot is great but from a tuning standpoint, 2 or 3 qualifying runs would have been better. In the first round we had to run the #2 qualifier, Tate Branch (who, at that time, was #9 in the national points). Lyle tweaked the fuel system in quite a few places - not only to get the car to run on all 8 cylinders, but to build some more low end. At that point, we were just hoping the car might run in the 6.30's.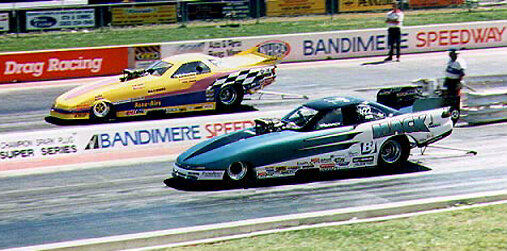 Lyle and Tate leave the line together during their 1st round matchup. Photo by Dale Fackler.
Well, between the tuning changes and Tate's car shaking the tires, we put on a heck of a race. Lyle and Tate both had .450 reaction times and Tate took the early lead with a .996 60' time to our 1.018. Tate's car then had a little tire shake at about. By 330' we were ahead with a 2.69 to Tate's 2.72. At half track we were still ahead 4.05 to his 4.06. Finally, at about 800 feet Tate's car started really charging and he drove around us with a 6.13 second ET at a whopping 236 mph to our very close 6.21 at 225 mph. It was a heck of a drag race. Lyle said he looked over at half track, didn't see the other car and thought we might win. Tate told us that it scared him when he saw us ahead for so long. His brother Bobby Branch told us that he was actually looking at our win light expecting it to come on and was kind of surprised when it didn't. It felt great to have a steady stream of people coming over and tell us how much progress we have made. Needless to say, we were THRILLED with a 6.21 /225 at 8500 feet density altitude. Even better, the computer seems to indicate we didn't have nearly enough clutch in it for the power it made, meaning there was some more ET there to be found.
Click here to go on to the next newsletter article - "Technical Tour - Fuel Systems".
Click here to go back to the newsletter table of contents.